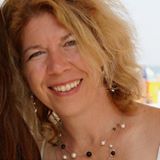 I am a multilingual person and like all multilingual people I codeswitch. Some information on this website is in English y otras cosas están en español and sometimes both. Creo que esta descripción va a ser igual a como está en mi cerebro: English dominant with embedded portions of Spanish.
I am a lot of things: linguist, widow, single mother, writer, feminist, human being. On this website I try to make different facets of myself available but I also try to compartmentalize so that people who care mostly about one part of my life can ignore the rest if they like.
Professionally, I am a linguist with a specialty in Zapotec languages. My interests are synchronic description (phonetics, phonology, morphology, syntax, not so much semantics and the rest but you never know what the future holds), language contact, dialectology and historical linguistics. I have a page on Academia.edu but I'm trying to make the same materials available here for those who aren't registered there.
Soy especialista en lenguas zapotecas y en particular las de la Sierra Sur. A largo plazo mi intención es hacer en este sitio una página para cada lengua que trabajo y también páginas dedicadas a pueblos particulares donde he trabajado. En estas páginas se pueden encontrar materiales como videos que hice con hablantes de estas lenguas y pdfs de artículos y presentaciones que he hecho sobre estas lenguas, para que personas con interés en estos materiales los pueden encontrar. También subo volantes de mis cursos por si tienen curiosidad. Si buscas algo que no encuentras pregúntame.